When you log in to QuickBooks Online there's a little gear icon in the upper right corner. 
Clicking this gear will open your settings menu.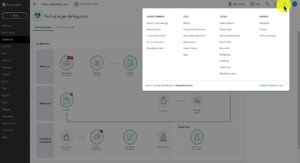 Let's go through what you'll find in this menu.
YOUR COMPANY
Account and settings: Where you edit your QBO settings.
Manage users: Where you add, delete, or edit users, including accounting firms.
Custom form styles: Where you edit the look of your invoices, sales receipts, statements, etc. 
QuickBooks labs: Where you can play with new features QB is testing.
LISTS
All lists: Opens a page with links to all your various lists (including the lists below)
Recurring transactions
Attachments
Custom fields
Tags
TOOLS
Order checks: Links to the Intuit Market where you can order checks to print on your business printer.
Import data: Use this if you have an Excel file, CSV, or Google Sheet of data to upload.
Import desktop data: Use this if you are importing data from QuickBooks Desktop
Export data
Budgeting: Only available in QB Plus or Advanced
SmartLook: Allows you to screen share with QuickBooks support.
Resolution center: Where you'll find any open QB support tickets.
PROFILE
Feedback: Opens a text box, with an optional file attachment, that you can use to leave Intuit feedback on QuickBooks. This is a great way to report bugs or complain about things you don't like to the QB developers.
Privacy: Where you edit your privacy settings.
Switch company: You'll only see this in the Accountant version of QB.
In the bottom right corner of the menu there's a blue link that says Switch to Business view (or Accountant view depending on which view is currently active).
This link toggles the grey main menu on the left of the screen between the Business or Accountant view. I like to keep mine on Accountant view.
You can click any of the links throughout the list above to go to a blog post or video that goes into that topic in more detail.
☕ If you found this helpful you can say "thanks" by buying me a coffee… https://www.buymeacoffee.com/gentlefrog
Below is a video if you prefer to watch a walkthrough.
If you have questions about anything in the QuickBooks settings menu click the green button below to schedule a free consultation.