QuickBooks usually does a great job suggesting the action types and categories for transactions. But, occasionally the software gets it wrong.
 A common QuickBooks mistake is suggesting a transaction is a transfer when it's not.
A transfer is when money moves from one account in your QuickBooks balance sheet to another.
Here's an example of one of these transactions. QuickBooks thinks this is a transfer from Rewind Accounts to an account called Uncategorized Asset.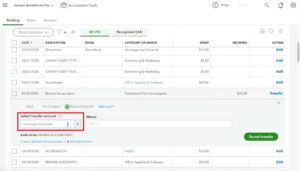 I know this transaction is not a transfer but actually a refund from Rewind.
To change this from a transfer to a transaction I'll click the "Add" radio button.
Under Action, where it once said Transfer, it now says Add and I can now add this as a refund to my QuickBooks account.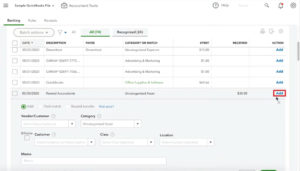 To find out if you've missed any of these "transfers" you'll want to check your balance sheet.
To do this click Reports in the left-hand menu and then select Balance Sheet.
If you see Uncategorized Asset in your Balance Sheet then you likely have transfers to fix.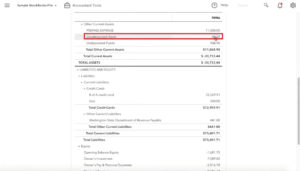 Click on the total for the Uncategorized Asset row to see the transaction report.
Change the Report period to All Dates to make sure you're seeing all the transactions.
In my example account I have one transaction that's entered incorrectly as a transfer.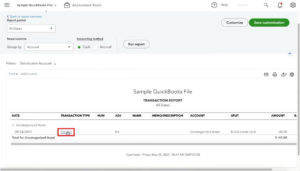 Click on "Transfer" to view the Transfer.
At the bottom of the screen you'll see a gray bar, click More and select Delete.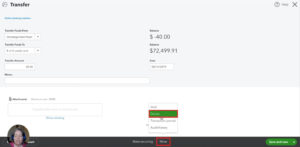 A pop-up will appear asking if you're sure you want to delete this, click Yes.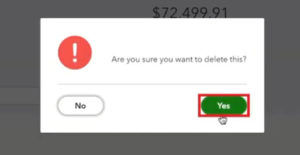 The transfer is now deleted. The transaction will appear back in your list of For Review transactions in Banking.
You can now switch this from a transfer to an income transaction by selecting Add as I showed above.
You now know how to change the Action Type for a transaction in QuickBooks Online. As well as changing a transfer to income or an expense. If you'd like to watch me walk you through this time tracking process you can watch the video below:
Need some one on one QuickBooks assistance?