Your chart of accounts as seen in your accounting software is a list of all your accounts that will appear in your financial reports. I like to think of it as the one-stop-shop for information about your business. If you're looking for information about your companies income, expenditures, assets, and liabilities, this it he place to look.
Have a look at the figure below. That's our chart of accounts for the sample company, Craigs Landscaping.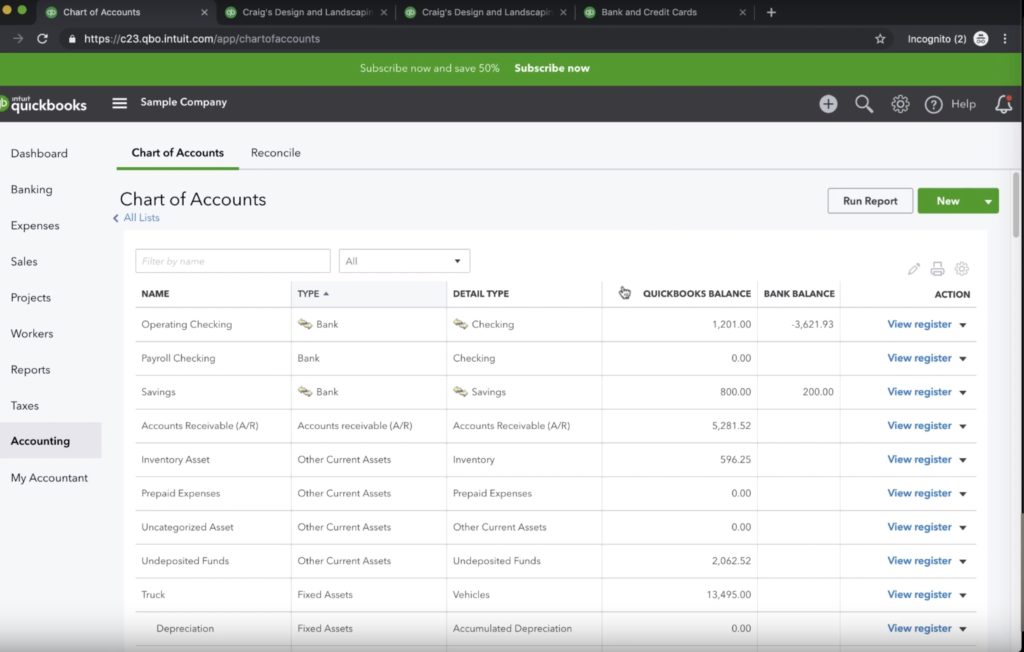 You will see that the chart of accounts starts with balance sheet accounts and then works its way into income statement accounts, i.e profit and loss statement accounts. The account names you will see in the chart of accounts will be precisely the same as the ones you see in the balance sheet and profit and loss reports.
Now you might ask yourself why things like the chart of accounts even exist. Like all accounting practices and reports, they exist for a reason and this is no exception. Think of a scenario when you need to categorize some expense hitting your bank statement. You will need to tell your accounting software what category to classify the transaction as. What you're really telling your accounting software is which account in the chart of accounts should this transaction be assigned to. It will then show up on your balance sheet and/or profit and loss statement.
And there you have it. Now you know what the chart of accounts is used for, why we use it in quickbooks, and what kind of information we can gleen from the reports.
If you want to see a video tutorial on how to access this information, have a look here.