In this tutorial I'll show you how to use QuickBooks to keep track of your time and make sure you bill your time back to customers or clients correctly.
There are other options and software available that can track hours worked but I'm going to show you how you can do it from within QuickBooks Online.
Apps
Apps.com is a list of applications that integrate with QuickBooks.
On the apps.com homepage you can scroll down to the search bar and enter "time" to get a list of time tracking apps.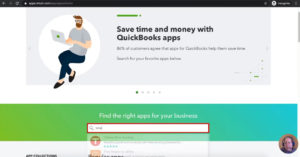 At this time there are 75 apps that integrate with QuickBooks that can do some kind of time tracking.
You can go through these apps and find one that works for you. The app that I've used and like the most is T Sheets.
T Sheets was started by a guy in Idaho who sold it to Intuit, QuickBooks parent company. Since Intuit maintains this app the integration works really well.
My second recommendation is ClockShark Time Tracking. I haven't used this one personally but many of my accounting friends have and think it's fantastic.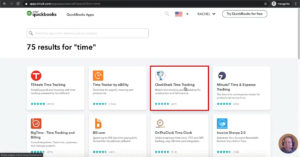 Time Tracking Within QuickBooks
You don't have to use an app, QuickBooks has time tracking built in and I'll show you how to use it.
In the upper left-hand corner click the "+ New" button. Under the EMPLOYEES column you'll see "Single time activity" and "Weekly timesheet."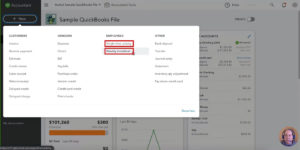 You'll want to choose which one of these works best for your situation. Using both can create a mess. 
Single Time Activity
When you choose Single time activity you'll start by selecting the date and the name of the person doing the work. In this example I'm entering time worked for myself "RachelTheContractor."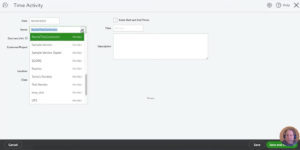 The "Cost rate (/hr)" is for you to keep track of how much it costs you for the work being done. This comes in handy if you have employees. You can enter how much the employee costs you per hour and later how much you bill your client for the work that employee does. 
"Customer/Project" is where you'd enter who the person is working for or what project they're working on.
Check off "Billable (/hr)" and enter an amount for what you are billing the customer.
You should only check off Taxable if the work is in fact taxable.
You do not need to enter Location and Class at this time.
Time is where you enter how much time was spent doing the work.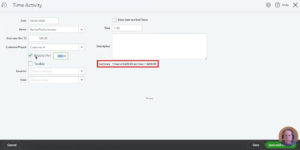 In the example above I've worked 1 hour for Customer A who I'm billing $200/hr and QuickBooks shows a Summary that reflects that information.
In the Description field you can enter notes about the work that was done.
When you've finished entering the time worked click the green arrow in the lower-right hand corner and select "Save and close."
Billing Your Clients
Let's say you've been keeping track of your hours worked for clients within QuickBooks and you're now ready to bill your clients at the end of the month.
Click on the "+ New" button in the upper-left corner, in the Customers column select Invoice.
In this example I'll be billing Customer A. On the right-hand side of the screen you can see a list of all the billable times I've worked for Customer A that haven't been invoiced yet.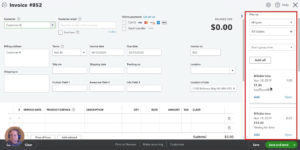 I'm just going to add one of these times to the invoice by clicking Add. When I do that it's removed from the list, added to the invoice and there's a green check mark letting me know it was added to the invoice.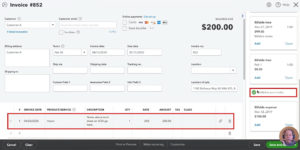 All the information I previously provided is automatically entered into the invoice. This includes the notes I put in the Description field. All of these fields can be edited before sending your invoice.
If you're happy with the invoice you can click the green "Save and send" button in the lower right-hand corner to send the invoice to your client.
If you don't want to send the bill yet you can select "Save and close" and that billable time will no longer be available to add to another invoice so you can't accidentally double bill your client.
Weekly Timesheet
Let's now take a look at tracking time with the Weekly timesheet.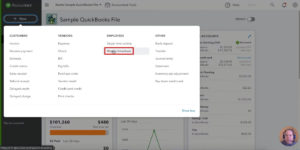 Within the Weekly Timesheet you'll first enter who's working and the week they're working.
In my example the time I reported for Customer A in Single Time Activity is already filled in.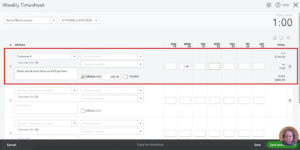 One thing I dislike about the Weekly Timesheet is that the Description/notes covers the whole week for a client. If I need to make detailed notes on the work I'm doing I prefer to use Single Time Activity so I can enter detailed notes for each time I worked.
In the Weekly Timsheet you can enter as many clients as you worked for that week, the hours worked and how much you billed.
The Weekly Timesheet does not allow you to set a cost. I've entered hours worked for a second client and you can see in the image below that the work that imported from the Single Time Activity includes cost while the work I entered in the Weekly Timesheet does not.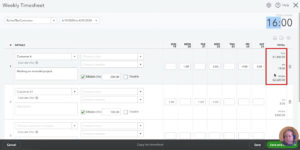 When you've entered all your hours you can click the green arrow in the lower right-hand corner and select "Save and close."
Unbilled / Uninvoiced Time
One of the nice things about marking time you've worked as billable in QuickBooks is that you can run a report to find billable time you haven't invoiced yet. This has definitely helped me remember to invoice clients who I only work for a few times a year.
You can find the report by clicking Reports in the left-hand menu then searching for "time" and selecting "uninvoiced time."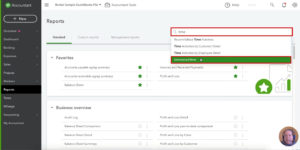 This report shows a full list of the billable time you haven't billed/invoiced for yet.
These are just two of the ways to track and bill time from within QuickBooks Online. If you'd like more of a stop watch style tracker you can always checkout what's available at Apps.com. 
If you'd like to watch me walk you through this time tracking process you can watch the video below:
Need some one on one QuickBooks assistance?