I've been using Sticker Mule for so long I can't even remember why I picked them over the hundreds of sticker manufactures. But, I'm so glad I did.
I recently got a new order of hologram stickers from Sticker Mule and they look fantastic! You can see it here on my water bottle: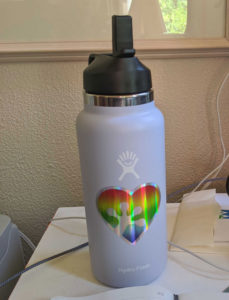 I love to stick my logo on everything I own and Sticker Mule makes it so easy. They have great prices, their ordering process is simple and their quality is top-notch. I love that their stickers stay stuck but can be unpeeled if needed.
But they don't just make stickers, they make magnets, coasters, labels, buttons, packing tape and so much more! Like hot sauce, did I mention the hot sauce?
If you're thinking about getting some stickers made for your business, or just for fun, I highly suggest ordering from Sticker Mule, you won't be disappointed.
Need some one on one Quickbooks assistance?