Have you ever seen a transaction in QuickBooks Online that required editing or deletion? Today I'm going to show you how to make those modifications.
In this tutorial, we're going to start by opening the QuickBooks Online Test Drive file. You can open that file here: https://qbo.intuit.com/redir/testdrive
Have a look at the title for the file in the dashboard. It should say, "Craig's Design and Landscaping Service." If it doesn't, you're in the wrong place.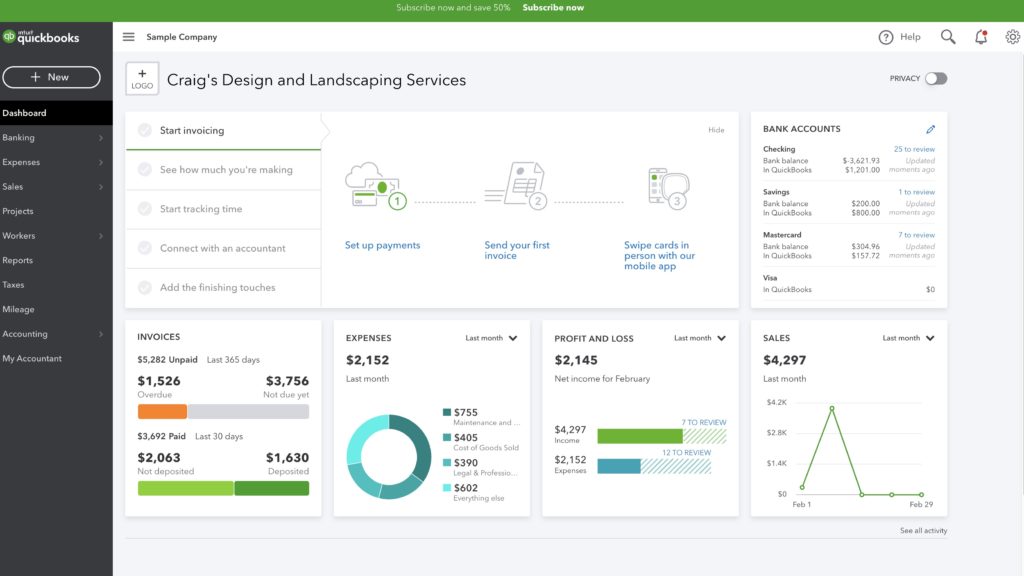 To set up our scenario, we're going to add a couple of transactions that will serve as our hypothetical mistakes. To do that, click on where it says Checking in the right-hand column of your dashboard.
Once we've clicked on that account, it will show a queue of items that need to be added to the register. To simulate the creation of transactions that need modification, click add on the right-hand side for the top four items.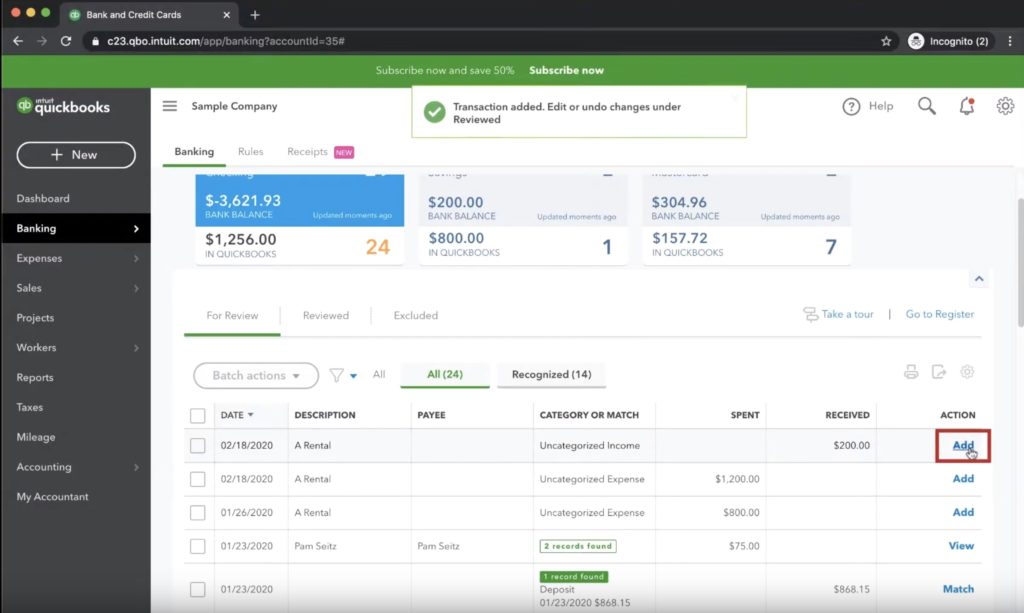 So now, we have four items in our register that have been added from the review queue. To fix this, we need to start by going to the register. You'll see the register button right about the actions column on the bank account.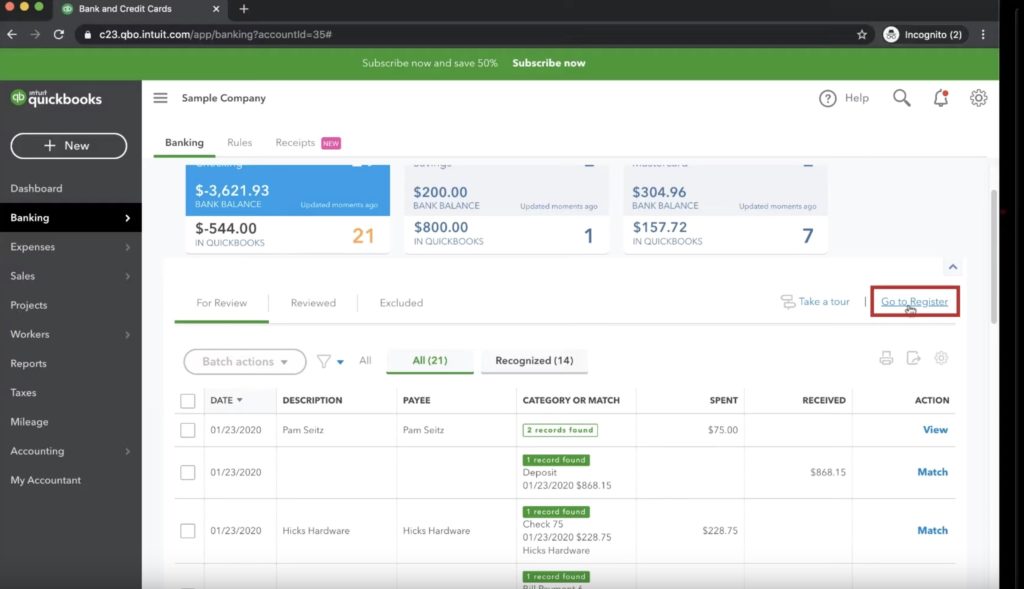 Alternatively, if you are not on the Checking Account screen, we can navigate to the Checking Account register by looking to the left-hand navigation menu, hovering Account, and then clicking Chart of Accounts. Once we're in the chart of accounts, we'll see the checking Account and view register button.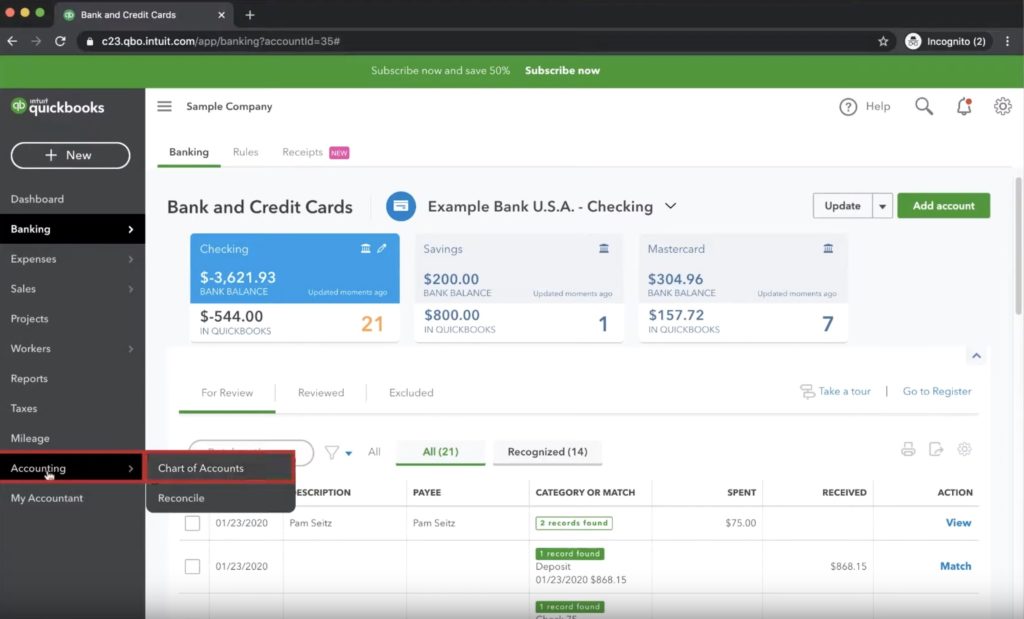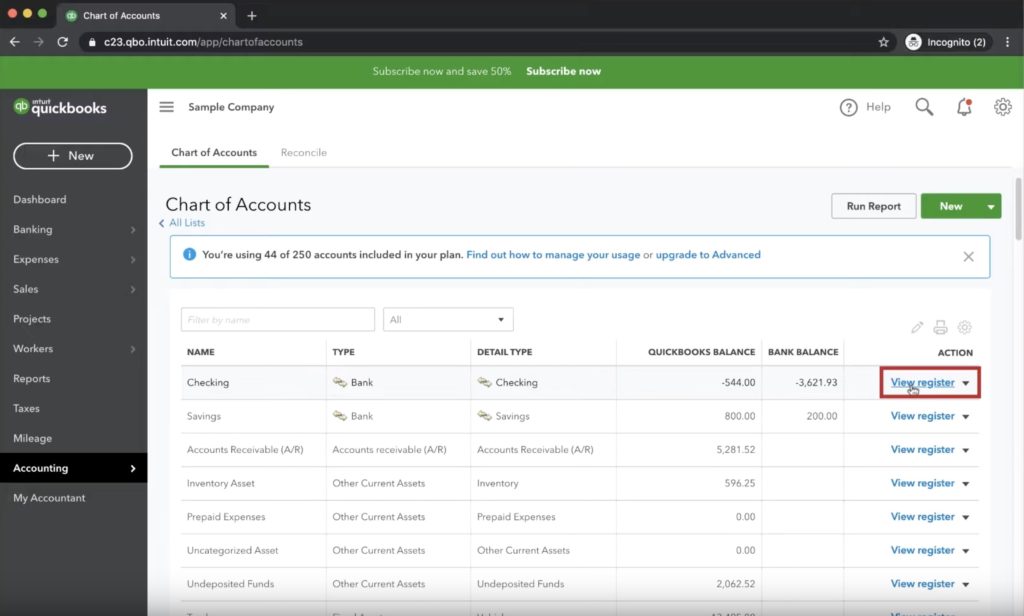 In the register, we'll see the transactions we want to modify. The first one in question is for uncategorized income from Books by Bessie. To make modifications to that item, click the entry, and it will become editable.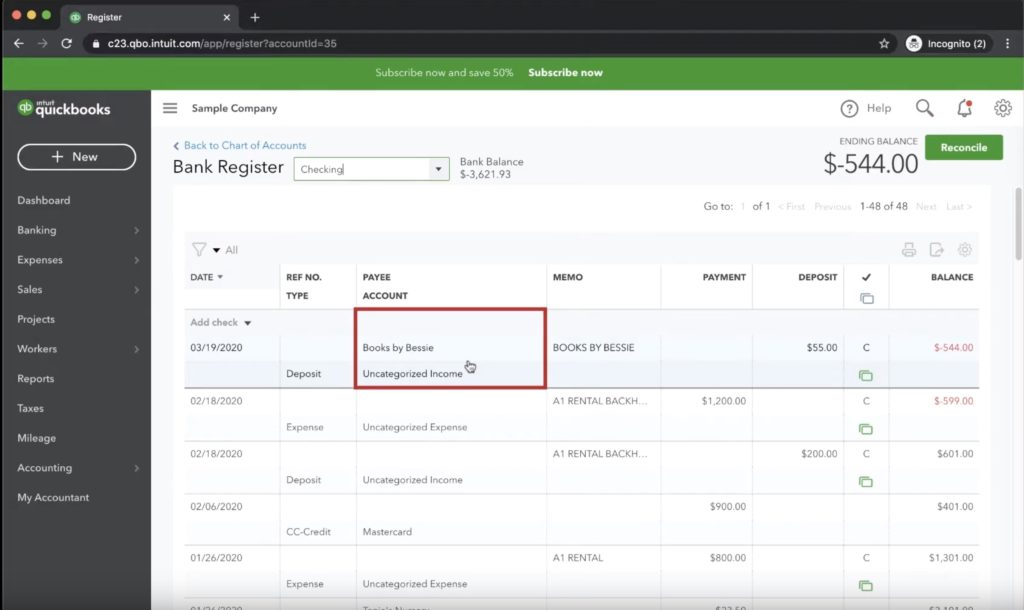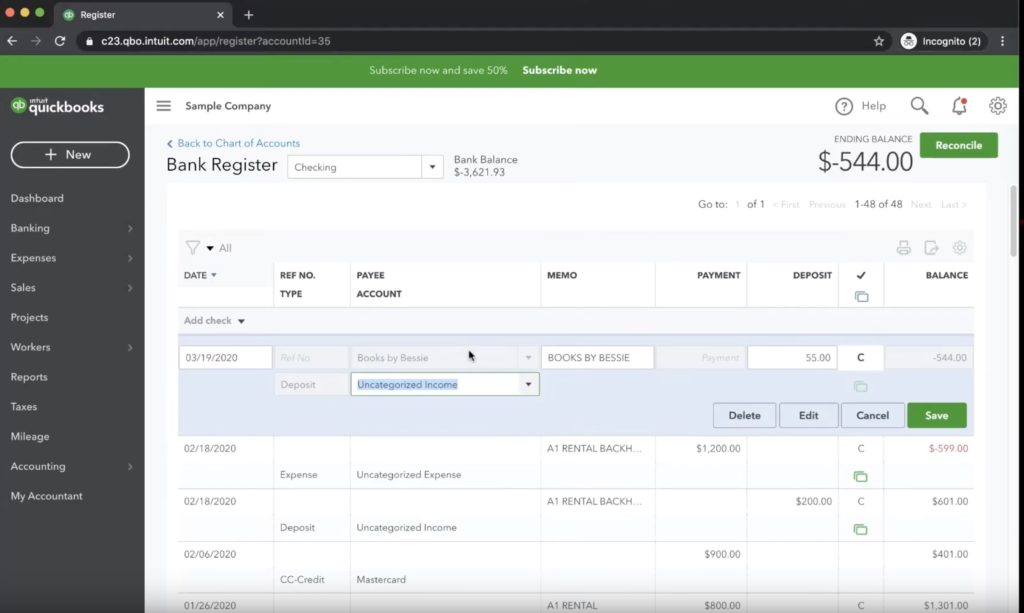 Now that we've transformed the transaction into an entry we can modify, we'll see 4 buttons: Delete, edit, cancel, and save. For this transaction, we're going to click delete.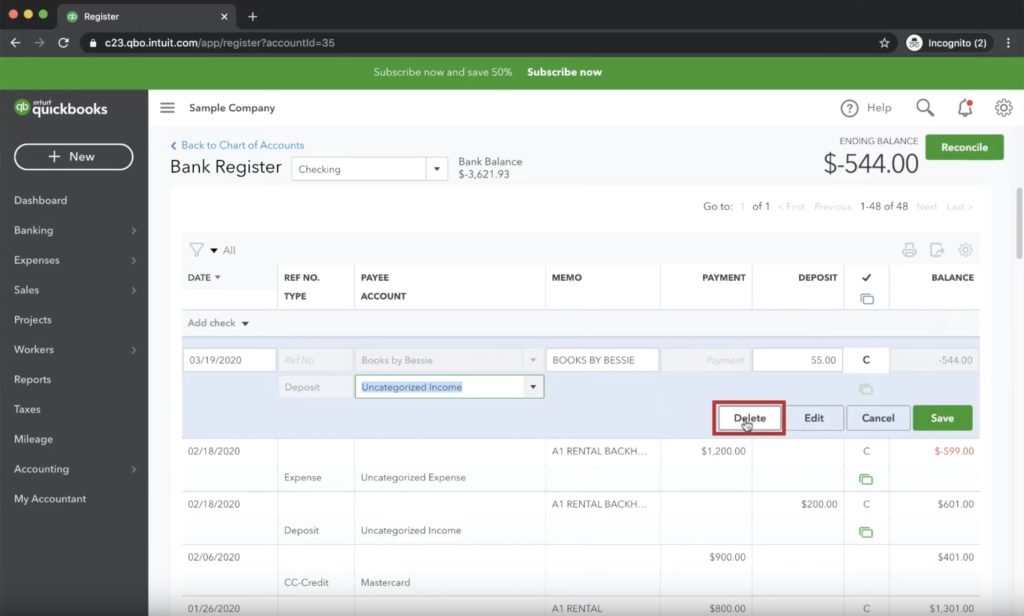 Once we click delete, a new window will pop up and we'll be asked if we are sure we want to proceed with deleting this transaction. Click yes to proceed.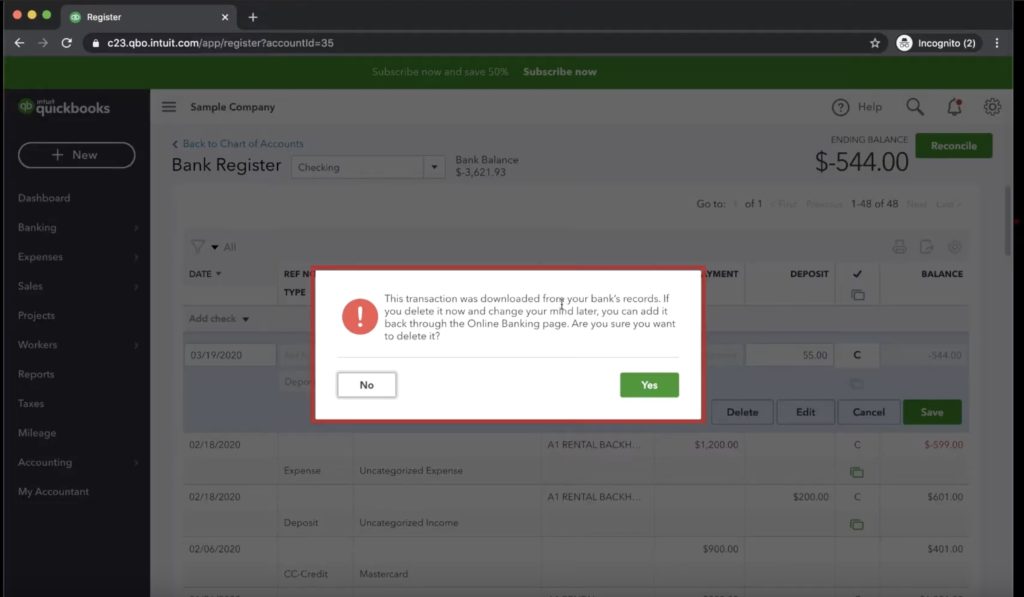 Now, if we navigate to the left-hand navigation menu and click on Banking, we'll be brought to a screen that shows all the transactions we previously deleted. Those items are back in our "for review" queue and have not been added to the register —they're back where they were when we started the tutorial.
Sometimes we know right after we make a mistake that the mistake was made. If that is the case, after pressing the "Add" button, click on the "reviewed" tab, find the transaction in question, and click "Undo."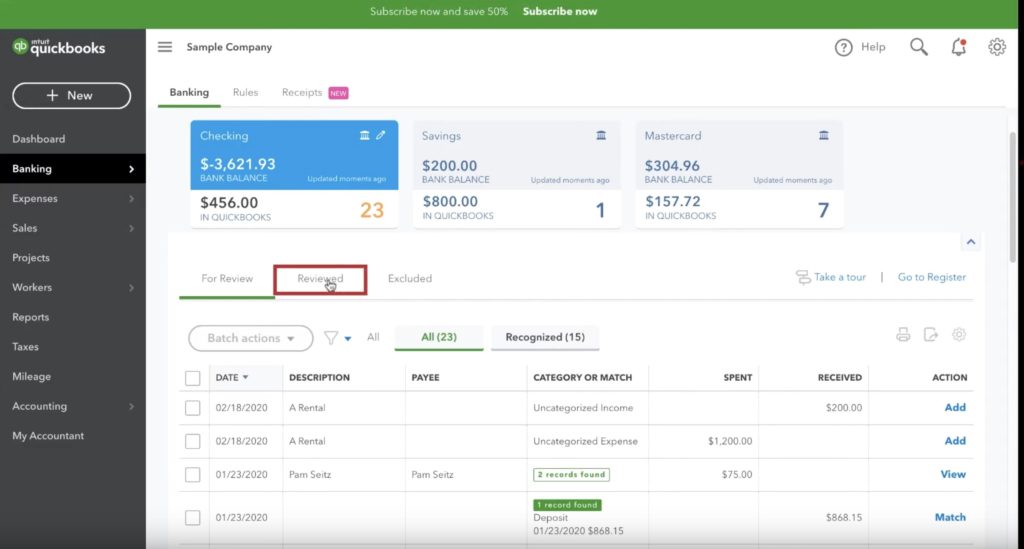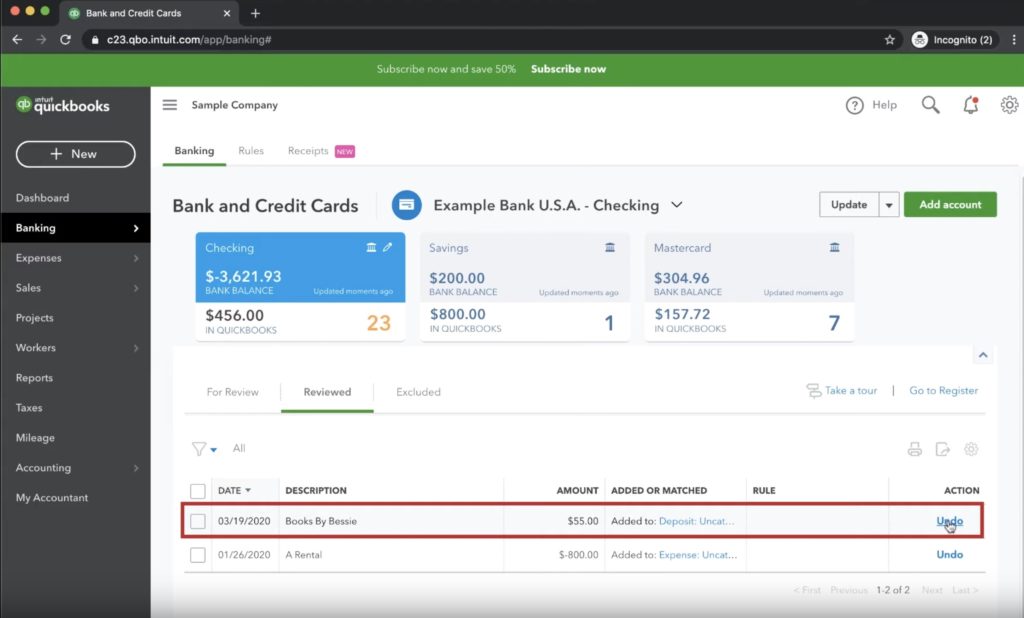 Once you click Undo, the transaction should no longer show up under the "reviewed" tab. Instead, it will be back in "For Review."
If you would like to see these steps in real-time, please see the video below.