Have you ever wanted to minimize or avoid the number of duplicate credit card payments in your QuickBooks Online account altogether?
In this blog post, I want to talk about something that comes up frequently. In QuickBooks Online, I often see a payment from the Checking Account to the credit card that gets applied twice. I will show you what it looks like, how it happens, how to undo this mistake, and how to prevent it from happening again.
To illustrate this tutorial, I uploaded a few transactions to QuickBooks online, and I will provide some screenshots below. In our test file, we will be exclusively working with the Checking Account and Credit Card account.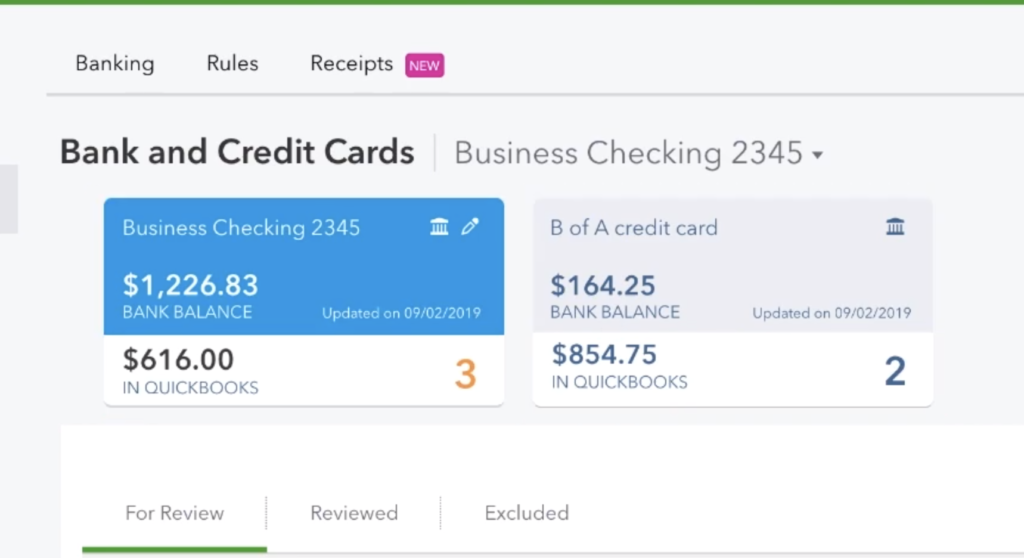 Let's look at our checking account. Two payments interest us, and I've marked them with red outlines below. The first payment is for $827, and the second is for $1019. These payments reflect in both the checking account and credit card account.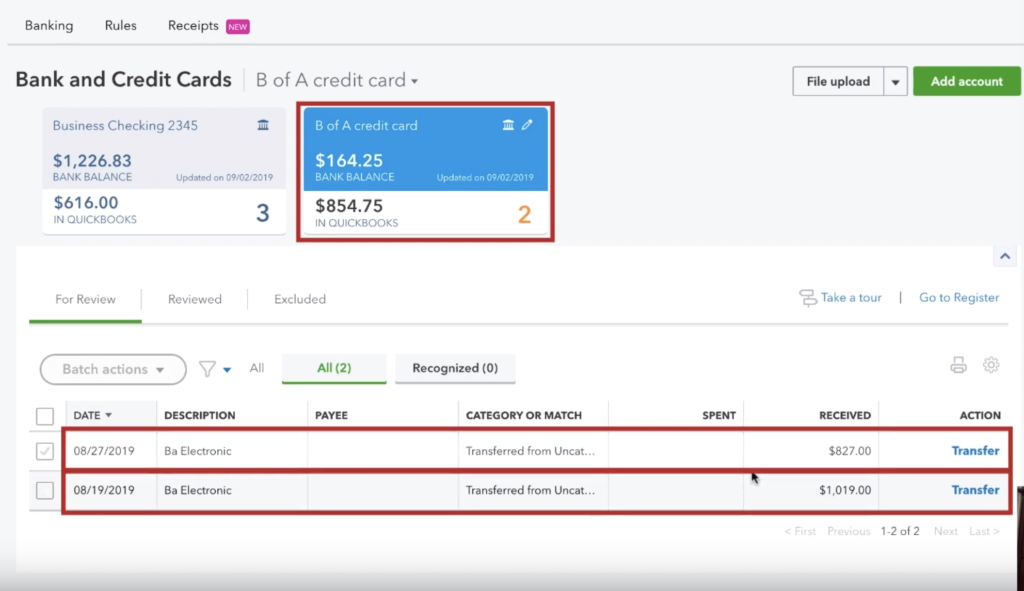 One of the benefits of QuickBooks Online is that when transactions or payments load into it, the program will try to suggest the source. These payments categorize as "Uncategorized Asset." In my business, the category "Uncategorized Asset" doesn't exist in real life, so there should never be anything in it. Due to that fact, we know there is some error here. But I digress, and that is a topic for another blog post.
The first thing I will show you now is how things get put into the register incorrectly. Let's have a look at our payment in the Bank of America Credit Card that was received for $827. We will tell it where it came from by clicking the add radio button and entering Business Checking 2345 account for category and then clicking the green add button in the bottom right. We will replicate this exact process for the $1,019 payment as well and categorize it as Business Checking 2345.
When I look in my register for Business Checking 2345, I can see my payments for $827 and $1,019. And that's good! The problem is sometimes these payments get doubled up and I want to show you how that happens. Let's head over to our banking tiles where we were before. We'll be able to see that $827 payment to the Bank of America Credit Card. We will see again that this payment is incorrectly categorized as "Uncategorized Expense." We know that isn't true. The reason why this left the account is because it went to pay the credit card, not some magical uncategorized expense. Let's go ahead and change the category to B of A Credit Card and click add in the bottom right.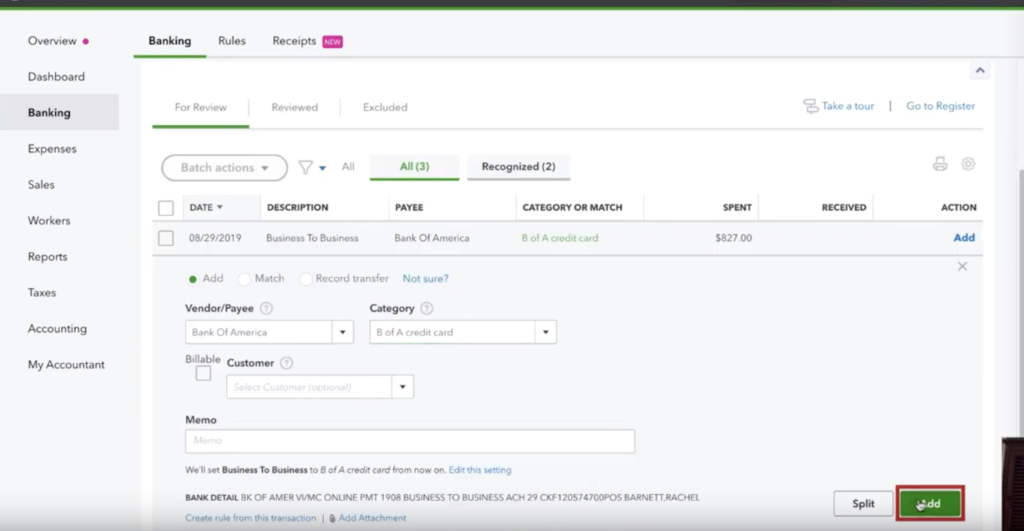 Let's have a look at what we've done. If we look at the register for the credit card. Originally, when we looked at this register, we only had one payment of $827 and one payment of $1,019. But now, you can see we have two payments for each of those.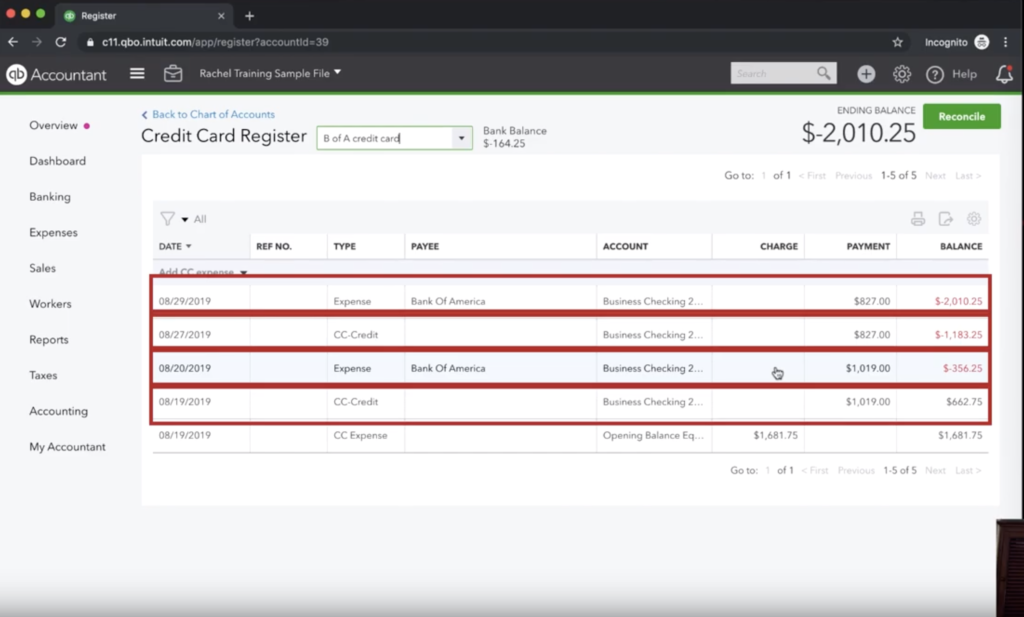 The problem doesn't stop there however. If we go over to our Business Checking 2345 account, we will see in that register they are duplicated as well.
So now that we have covered how things went wrong, lets have a look at how we can undo these mistakes. Let's start by going to the tile for the credit card and checking out the tab called Reviewed.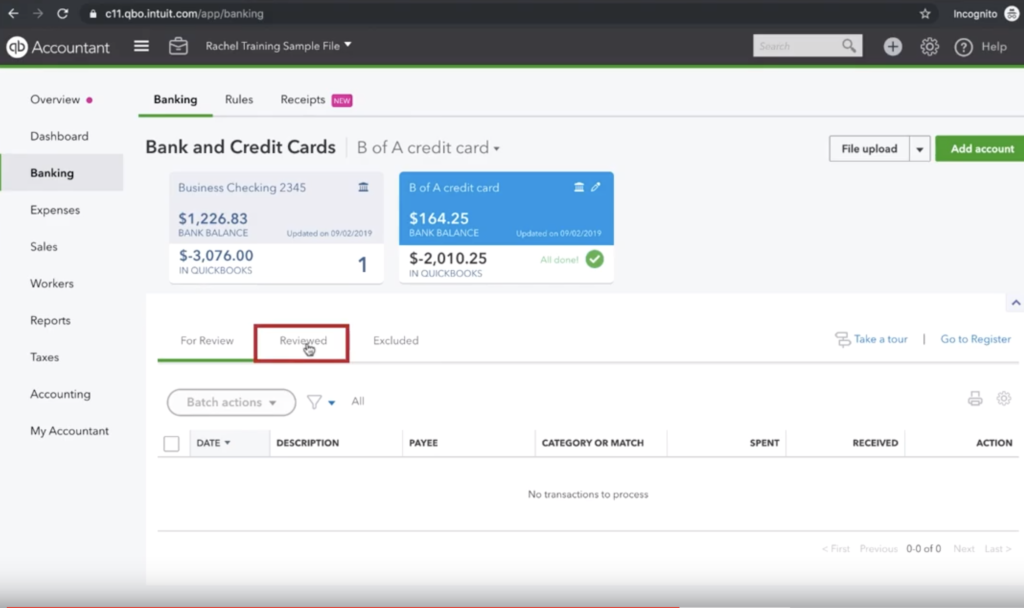 After we've clicked the Reviewed tab and located the transactions in questions, we're going to select "undo."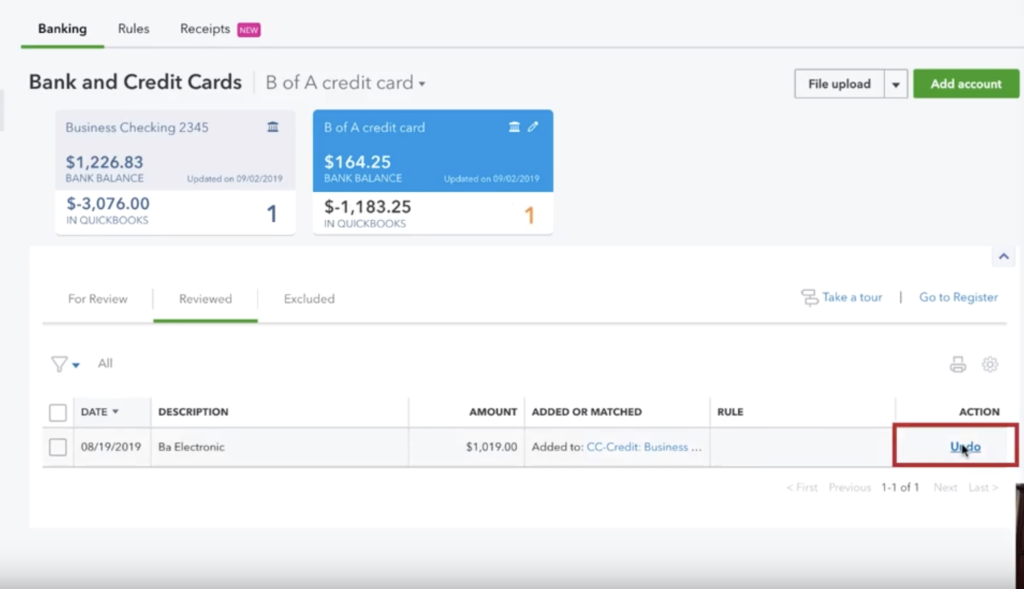 Sometimes, selecting undo is not enough. The point of clicking the undo button is to match it to a record. So if you do not see a record match once you click undo, you can search for the record on the next screen and click match.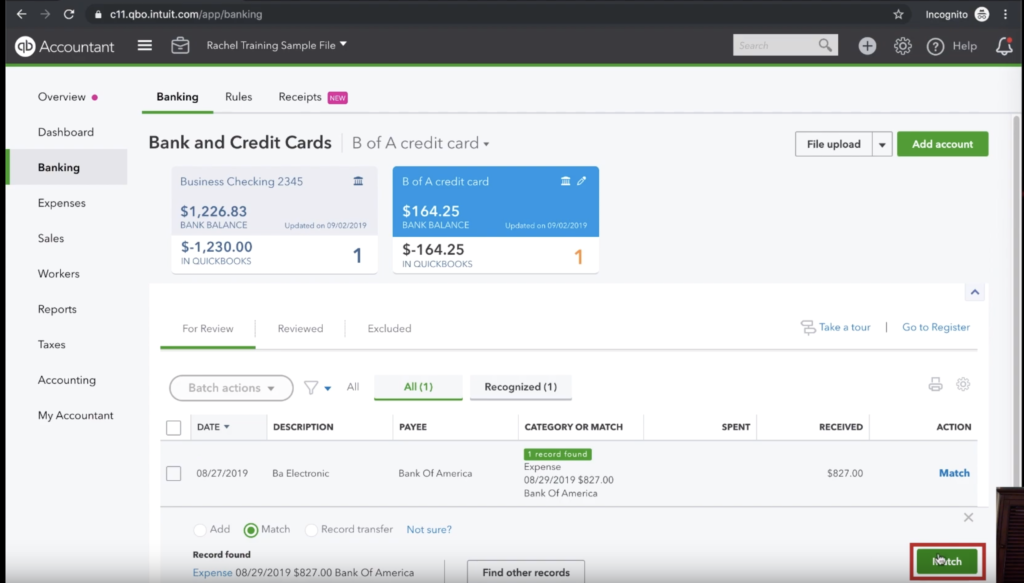 Now you know how to find and fix duplicate credit card transactions in QuickBooks Online. If you would prefer to watch a video walk-through of this information, see our video below.