Have you ever needed to enter and pay bills in QuickBooks online? In today's blog post, I'm going to show you how to do it in several easy steps.
So let's start a simple 2 step process in working through our bills. For many business owners, this may be a repetitive process. Think of this as something you would do once a stack of bills accumulate on your desk, and you want to enter them all into QuickBooks Online at once.
Step 1) Create new Bill
From our dashboard in QuickBooks Online, you'll see several menus. In the left-hand navigation menu, there will be a link labeled "+ New" with an oval outline around it. If you click that link, a drop-down menu will appear. The dropdown menu will have four columns with lists of links in each column. The one we're interested in here is the Vendors column and Bil link. Click the Bill link and proceed to Step 2.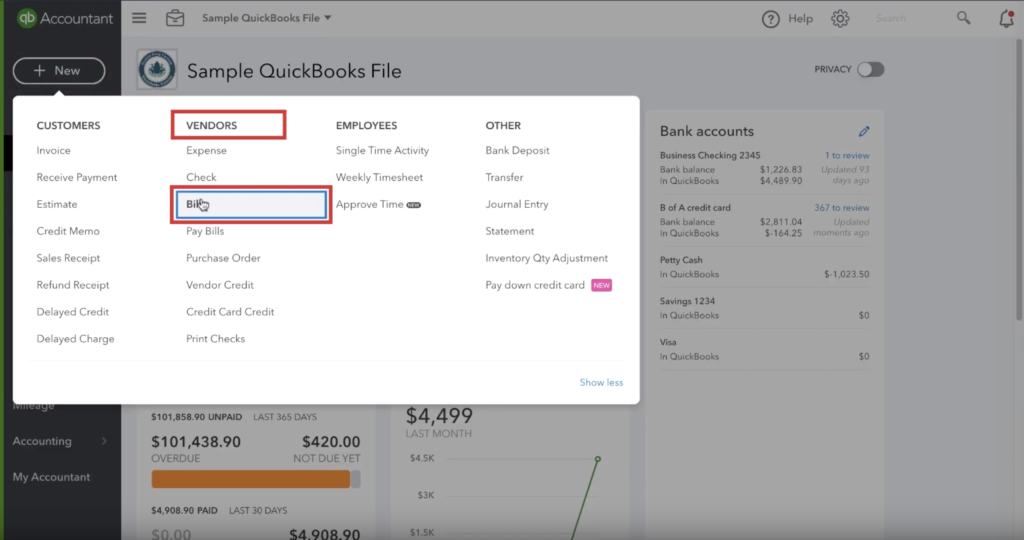 Step 2) Fill Out the Fields in the Blank Bill Screen
So now that we have our bill open, all of the input fields will default to blank. Let's begin by filling them out. For Vendor, we'll use our sample vendor. For Bill No., we'll call it Invoice1234. For the invoice details, we'll call the item being invoiced "Rental/lease" with an amount of $100. Remember, these items don't necessarily need to make perfect sense in this demo, and when you do this on your own, make sure to use relevant information to your business. So, once all of those details are entered, click Save & new in the bottom right-hand corner.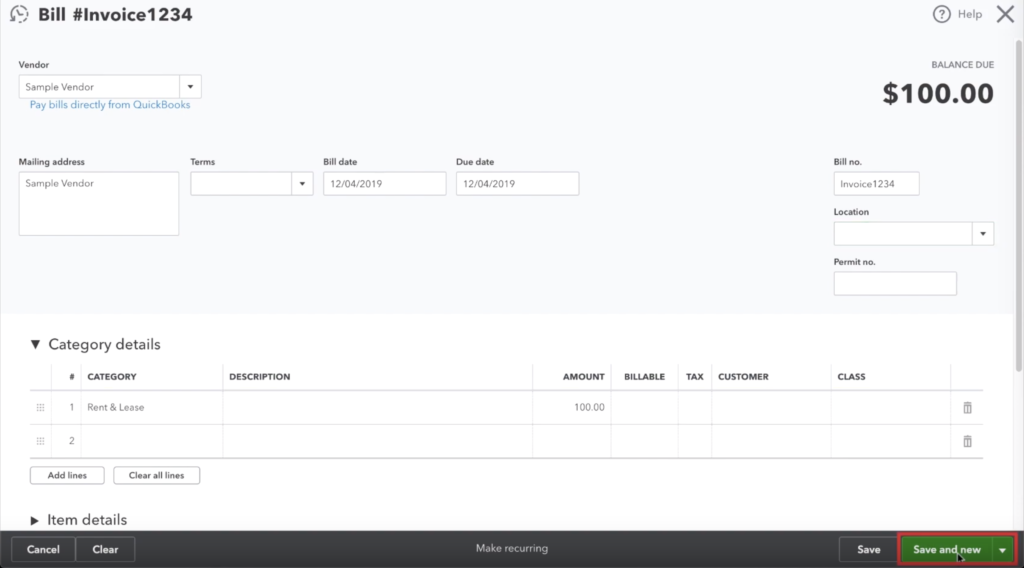 So now that we've entered a couple of bills, we need to go through and pay those bills. The way the workflow would work is that you enter a run of bills, you go through your accounts payable and pick the ones you'd like to pay, and then you execute the payment.
To view your accounts payable, look to the left-hand navigation menu and click on the link named Reports. Once you get to the Reports screen, there will be a handful of items to choose from. The one we are interested in is the one titled Accounts Payable Aging Summary.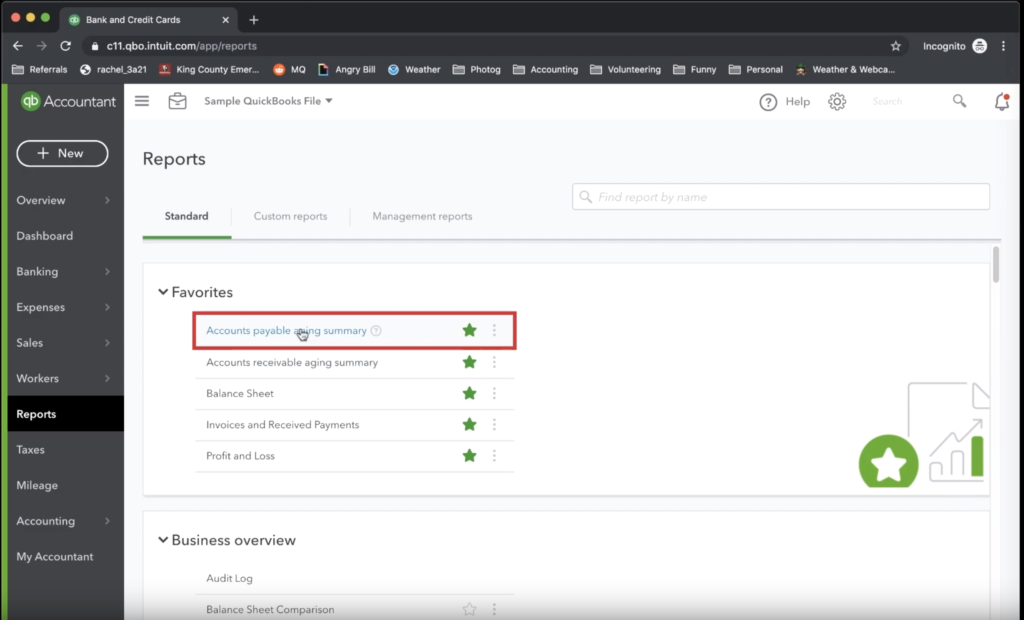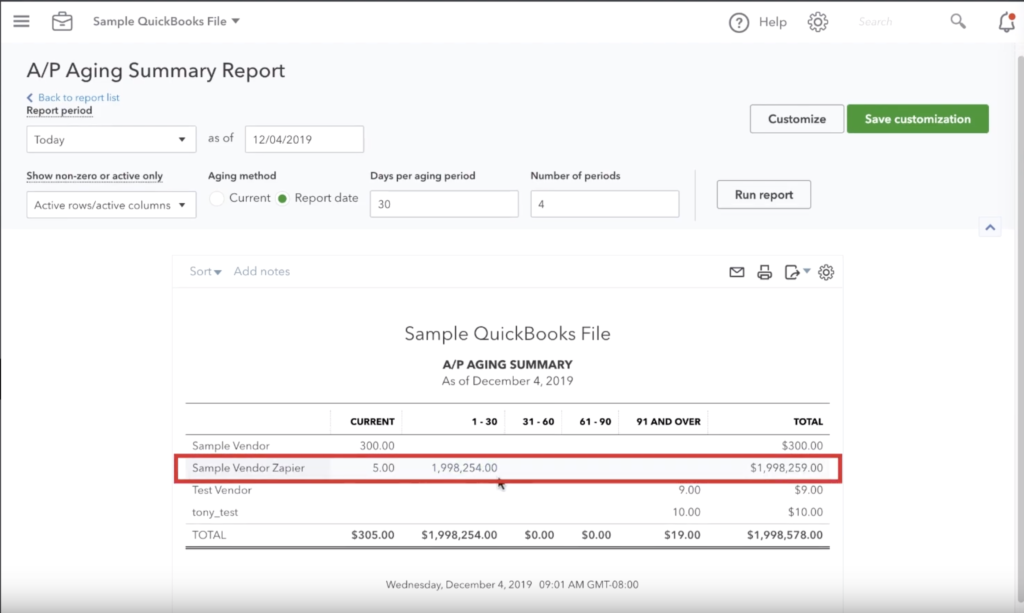 We now have a good idea of how much is owed and when it's owed because we've entered our bills up-to-date and viewed the totals in the Accounts Payable Aging Summary Report. It's now time to pay the bills we need to pay. Once you finish reviewing the A/P Aging Summary Report, you'll see that same "+ New" button that we clicked on before. Click it and search for the "Pay Bills" link under the Vendors heading.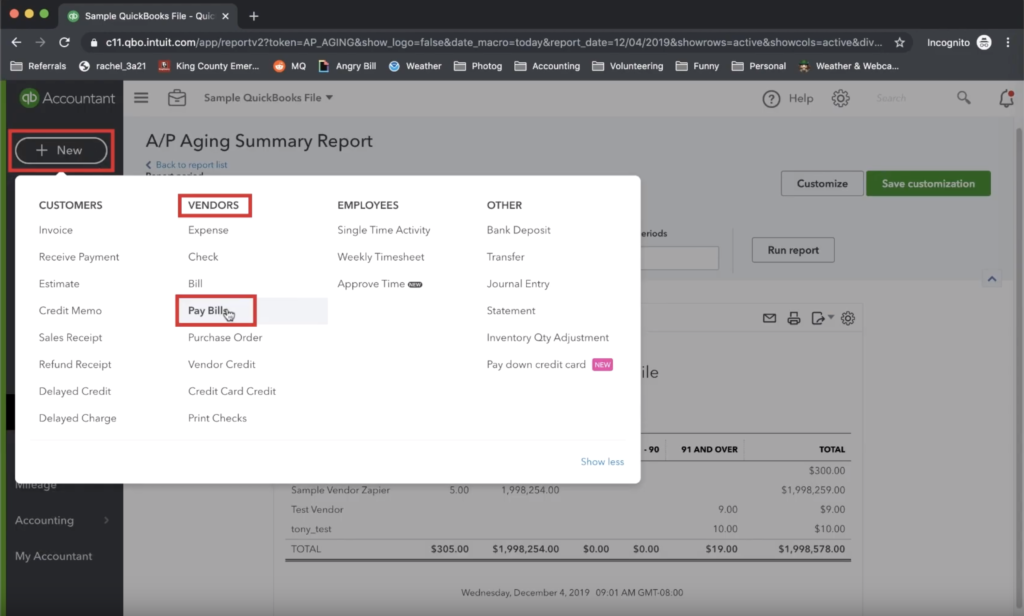 The process of paying a bill in QuickBooks online is straight forward and intuitive. First, we select the account we'll be paying from. Once the account is selected, we need to choose which vendors we'll be paying by selecting the appropriate drop-down box on the left-hand side. So once the vendors have been selected and the payment amounts have been confirmed, you can click save and close. Now those bills have been marked as paid.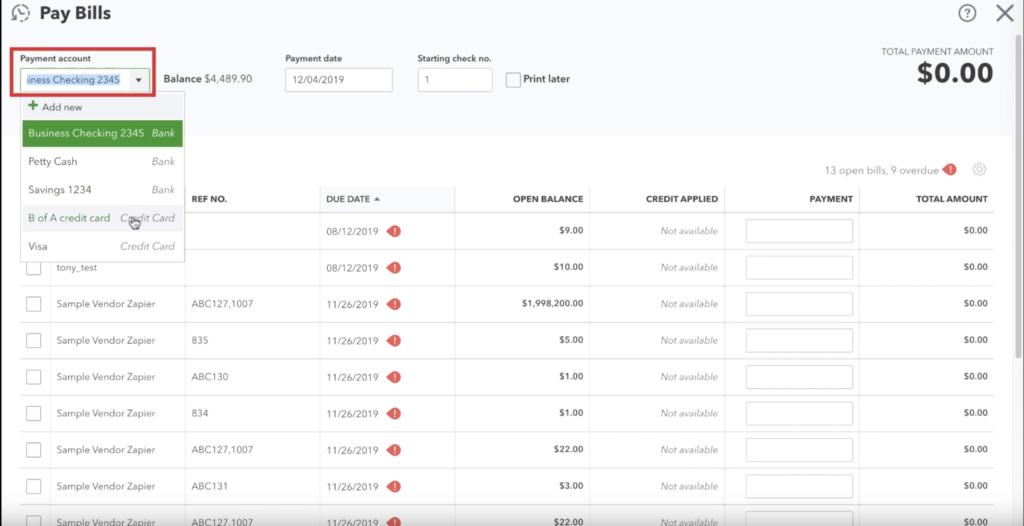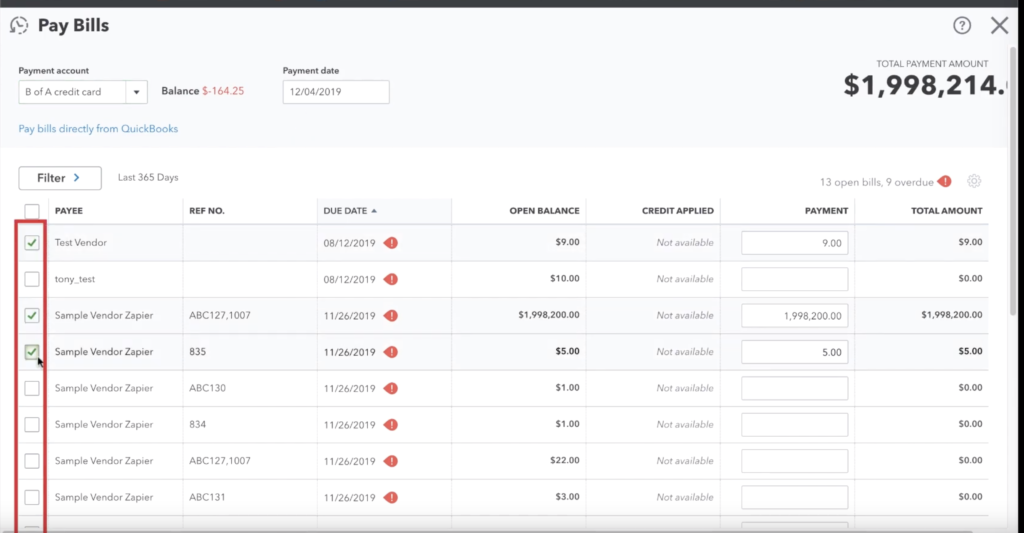 If you were paying by check, the process would be slightly different. Click that same "+ new" button and click Pay Bills like before. Select the vendors you'll be paying and be sure that the payment account selected is your checking account since that's where the funds will be paid from. At this point, it is advisable to check your checkbook and be sure that the check number starting field is the same as what is actually in your checkbook. You can now click Save and Close, or if you have check paper in your printer, you can click Save and Print and print out the checks on the spot.
And there you have it. Now you know how to enter and pay bills in QuickBooks Online. If you would like to see a video tutorial on how to do this, please see the video below.