Have you ever needed to back up your QuickBooks Pro Premier 2018 file? In this blog post, I'm going to show you how it's done.
Backups are something that should be part of your routine with any software you use for your business. We recommend performing them regularly to give yourself a snapshot in time of your books. It's easy insurance to be sure that you're safe in the event of data loss.
Before I get into the specific steps of backing up your Quickbooks file, I want to discuss some data security principles.
Principle 1: You do not have a backup unless the backup is tested
This is a very common mantra of IT experts in enterprise environments. Unless your backup has been tested, you should not assume it works. Files become corrupted and files are sometimes saved in incorrect formats. There is a litany of ways a backup can become unusable. To add some security to your routine, make sure to test your backups regularly by restoring them to a test version of your software.
Principle 2: Do not save your backup on the same machine as your main file
Try to imagine a scenario where you have a hard drive failure on your computer. If that hard drive contained both your backup as well as your main file, both items would be lost. So, save a copy of your backup somewhere safe — an external drive, flash drive, or even in the cloud.
To begin, open QuickBooks Premier and from any screen, click File -> Back Up Company -> Create Local Backup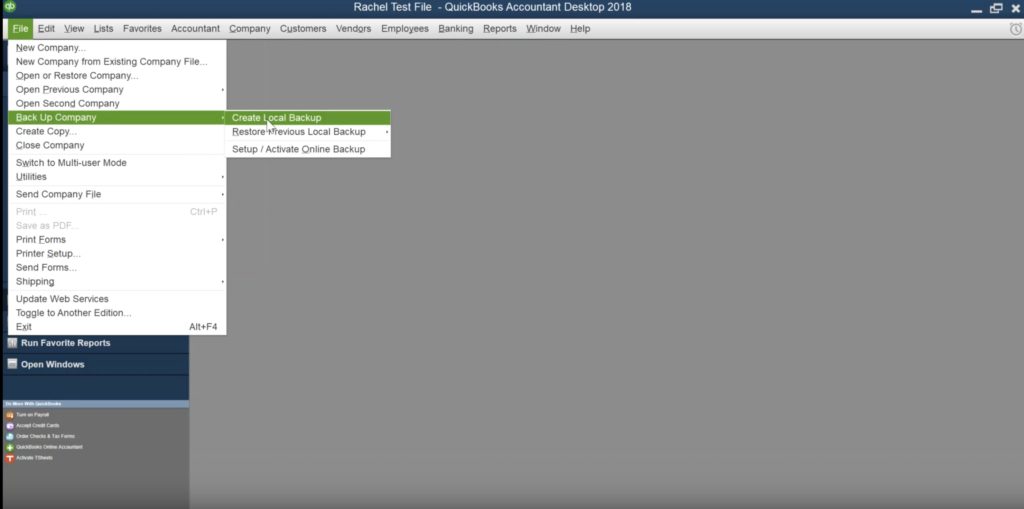 On the next screen, make sure the button for Local Backup is selected.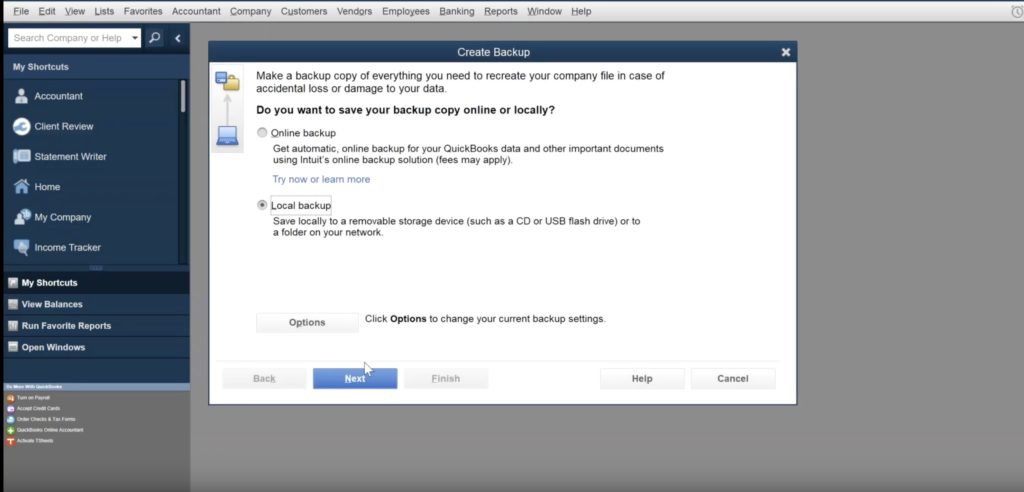 Click the next button and tell QuickBooks where to save the file by clicking the Browse button.
For this tutorial, I'm just going to save it to the Desktop. So select Desktop and click OK.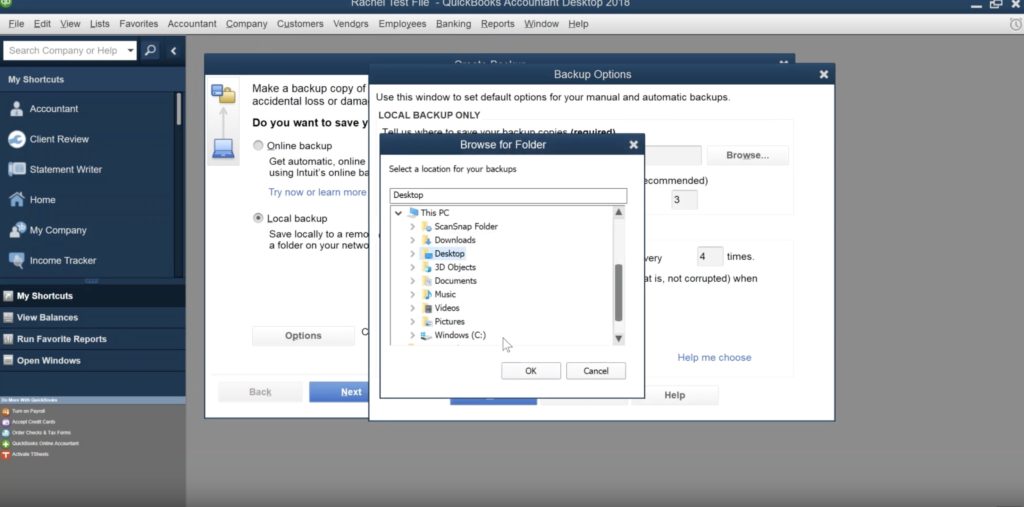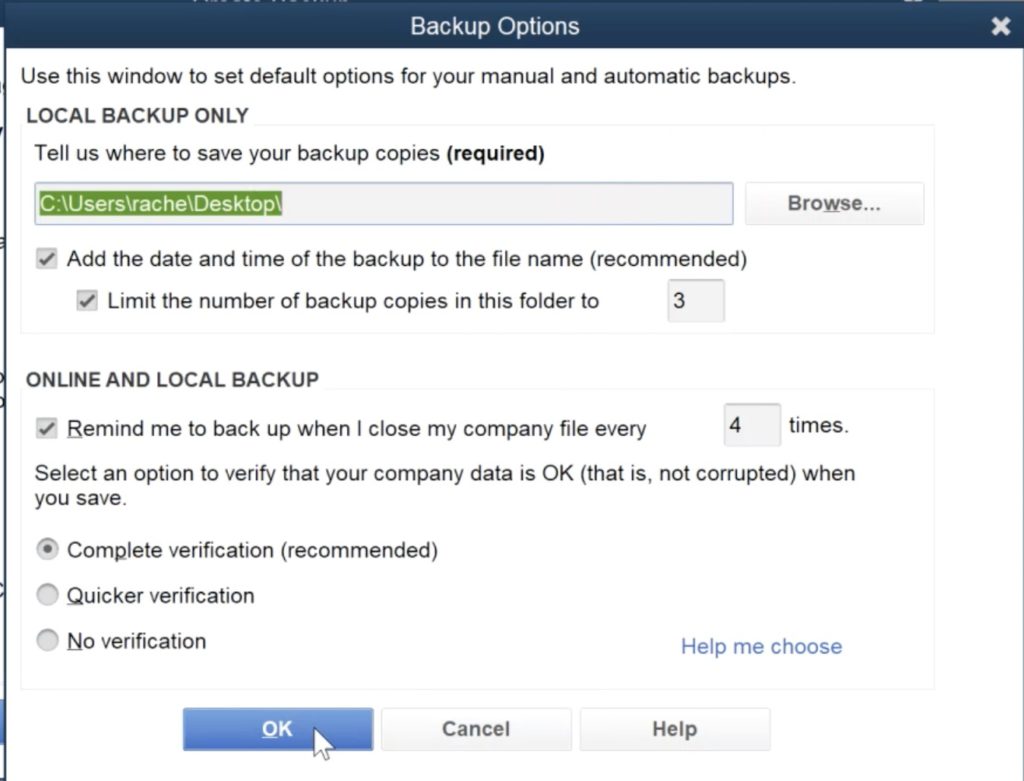 Once you click OK, you will see a warning box that reiterates what was mentioned in this blog post earlier. Saving to the same hard drive is not recommended by QuickBooks and you should save to an external drive. In this tutorial, we click OK. If you see this box, we recommend changing the location of your saved file.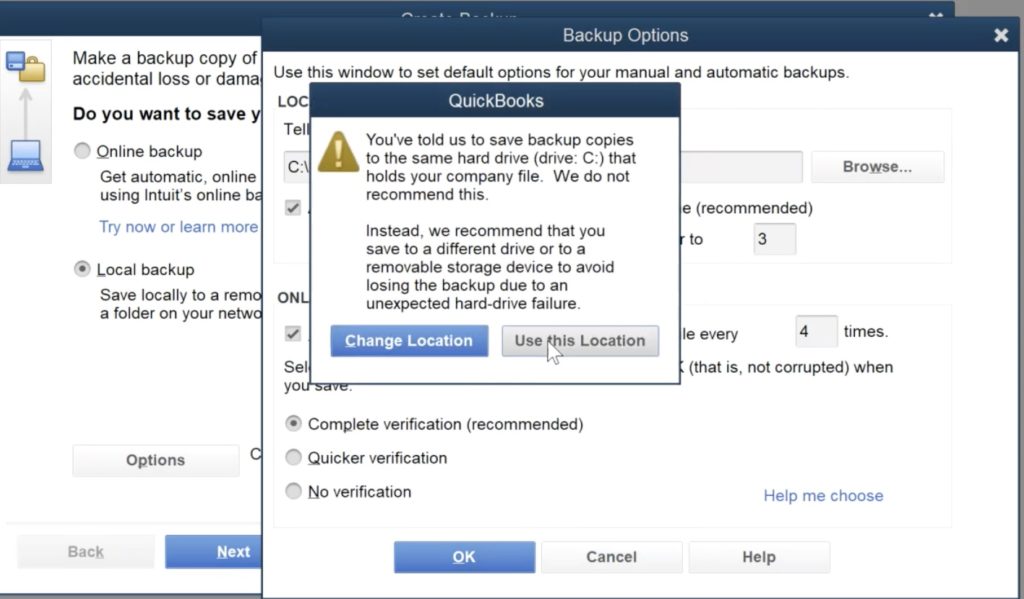 Now we need to tell QuickBooks when we want to save the copy. We have three options which are all self-explanatory:
Save it now
Save it now and schedule future backups
Online schedule future backups
Select Save it Now and click Next.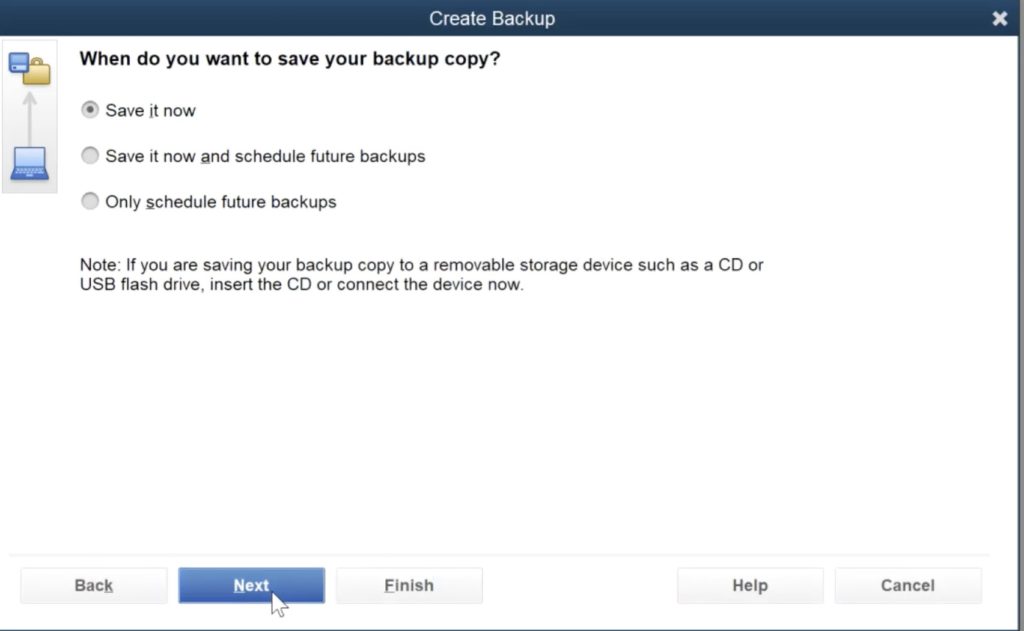 On the following screen, the location previously selected will open up and you will be able to name the file and save it.
Click the save button and QuickBooks will begin processing the file for storage. A dialog box will confirm the success of the save.
To see this process completed live and in real-time, watch the youtube video below.