In this tutorial, I'll show you how to accept an invitation to a QuickBooks Online account as an Accountant User.
Quick Instructions:
Open the email with the invitation
Click "Use This Intuit ID" next to the ID you'd like to associate with this QB file
Sign in to Intuit/QuickBooks
Enter the verification code sent to you by Intuit
Select the account you want to associate with this QB file, click continue
Select the accounting firm you want to associate with this QB file
Click Continue on the success message 
You've now associated your client's QB file with an accounting firm. When you log in to that accounting firm follow these steps to log into the client's QB file:
Search for the client
Click the green QB icon next to the client's name
Keep reading for a complete walkthrough with screenshots:
Email Invitation
When a client invites you to join their QuickBooks as an Accountant User you'll receive an email that looks like this: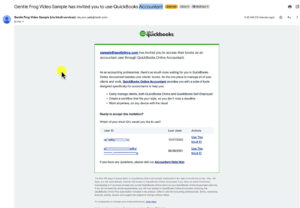 Somewhere along the way I managed to create two User IDs. Your email will probably only have one, if you do have two select the one you want to use. Click Use This Intuit ID.
You'll get a Sign in screen where it'll ask for your Intuit ID. Enter it and click the Accept Invitation button.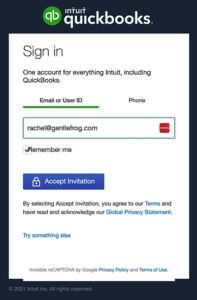 Next, you'll be prompted to enter a verification code that's been emailed to you.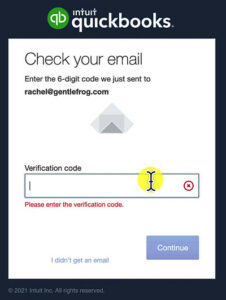 On the next screen, QuickBooks is letting me know they found multiple accounts associated with my email address. You may or may not see this depending on how many accounts you have. 
Select the account you want to use and click Continue.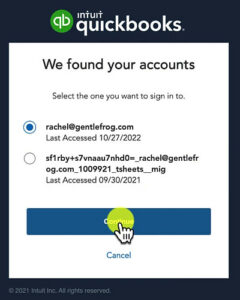 Next, you'll be presented with a list of accounting firms you're associated with. Whichever one you select is the accounting firm that will be connected to the QuickBooks of the client who sent you the invite.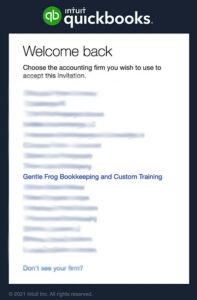 You'll see a Success message, click continue.
You can now log into the accounting firm that you connected the client's invite with.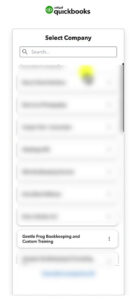 You'll then see a list of your clients. I have mine blurred in this example but I will search for the "client" I'm using for this example.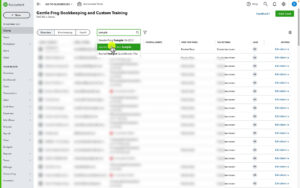 When you open the client you can click on the little QB icon next to their name to open their Quickbooks file.

That's it! You now have access to your client's QBO file.
If the prompts you see are different than what I have in the screenshots. Or, you get error messages. You may need to clear your cache/cookies. 
I regularly have issues with QuickBooks or Chrome giving me error messages when I try to accept a client's invite. Clearing my cache/cookies almost always fixes the problem.
☕ If you found this helpful you can say "thanks" by buying me a coffee…
https://www.buymeacoffee.com/gentlefrog
Below is a video if you prefer to watch a walkthrough.
If you have any questions about QuickBooks Accountant or QuickBooks Online click the green button below to schedule a free consultation.